22 SMART WAYS OF CLOSING OFF BOTTOM OF SHED
If you are here then you are searching for some awesome shed skirting ideas. We have composed 22 ingenious methods of closing off the bottom of a shed.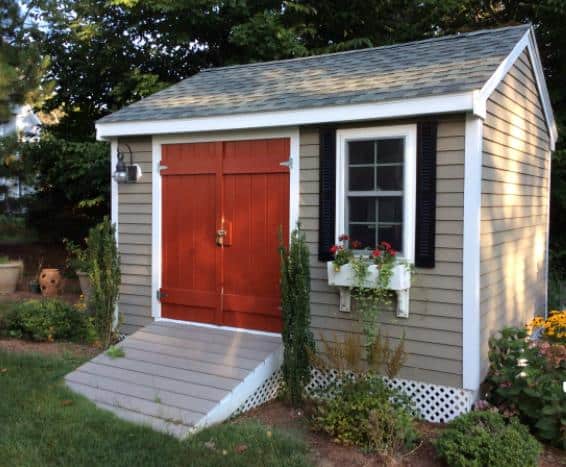 Shed Skirting Image By Jeff And Sons / Houzz Homes
Did you know your shed is far from safe unless you complete it with proper shed skirting? Shed skirting is simply the material covering the gap between the shed's floor and the ground underneath it. If left uncovered, this space can result in potential problems to your shed.
Other than allowing pest and animal infestation, it also exposes your shed to moisture damage. It can form mold and mildew. It's important to explore the right shed skirting ideas for your needs.
Skirting your shed is a great way to give it an attractive and finished look. It also boosts the lifespan of the shed. The materials used for skirting may range from chicken wire, brick, natural stone, vinyl, to pressure-treated lumber.
All these are great shed skirting ideas. In this review, you will discover the features, applications, pros, and cons of each material before deciding on your ideal one.
What to put around bottom of shed:
1. Expandable Wooden Shed Lattice Skirt
Wood shed lattice skirt is one of the best and most inexpensive shed skirting options available. It comes with an expandable design and is therefore ideal for different shed sizes. The largest area size it can cover is 75 by 13 inches.
It is crafted from top-grade extra thick wood material that is also corrosion-resistant. Over and above providing an attractive natural appeal, it is also a highly durable DIY shed skirting idea.
The durability aspect is further reinforced by a super-strong connection between the junctions of the wooden lattice. To add to the aesthetics of the skirting, the wooden lattice can also be painted to match your shed's color.
Moreover, wood is eco-friendly and harmless to your shed's contents or wall-hanging flowers. Other than closing off the shed bottom, this diamond-shaped shed lattice skirt material can also be applied in other functions around your shed, including supporting climbing plants, a hanging flowers shelf, a garden fence, and other decorative purposes.
Therefore, this is the perfect blend of durability and beauty for your shed skirting.
Provides good airflow underneath the shed
Great aesthetic appeal
Cost-effective
Easy to install
Expandable design for custom installation
Eco-friendly
Versatile applications
May not keep away smaller rodents from infesting the shed
2. Faux Stone Shed Skirting
Looking for an effortless way to add a professional finish to your shed floor gap? Try faux stone. This amazing storage shed skirting is made of GenStone faux stacked stone panels.
GenStone is cast from real brick and stone to produce an authentic stone shape and texture. This will leave your shed bottom looking as natural as real stone.
The skirting method is extremely DIY-friendly and as straightforward as measuring, cutting, and attaching without the tedious process of lifting and moving heavy stones around.
Faux stone comes in a panelized design that not only adds to the genuine texture and aesthetic appeal. It also makes it easy to install right from the box using screws and other simple tools within a short while. The panels are further equipped with a unique interlocking ability to ensure a seamless application along the length of the shed bottom.
The panels can stretch up to 42 inches wide, making them suitable for both small and large sheds. While trying to decide what to put around bottom of shed, this is one of the more attractive shed skirting ideas.
Easy to install
Great stone and brick appeal with no need for mortar
Cheaper than masonry work
Can be applied over existing material
GenStone easily cuts to size
Ideal for all shed sizes
Lightweight material
Keeps rodents away from the shed
3. Gravel With Landscaping Edge
Closing off the bottom of the shed can also be done using gravel. This shed skirting method is especially ideal for storage sheds with larger gaps. For smaller shed gaps, gravel alone without the landscape edging may suffice.
You can use plastic formwork, which is flexible enough to allow multipurpose applications along rigid straight paths and around bends or curves. All you have to do is simply clip the spines between the tabs.
This under shed skirting idea is also DIY-friendly, and a professional is not necessarily required.
 Once you have placed the edging around the shed's bottom border and secured it in place using anchoring spikes, start backfilling it with gravel up to the appropriate height. This leaves you with a clean professional looking edging for your shed gap within the shortest time possible.
This storage shed skirting is affordable yet with a durable finish. Therefore, depending on the results you are looking for, gravel with landscape edging is an extremely flexible skirting idea that should be given a thought.
Extremely easy to install and align
Highly cost-effective
Multipurpose edging
Produces a perfect professional finish
Sturdy and highly durable
The gravel crawl space may allow smaller rodents to burrow through
It has height limitations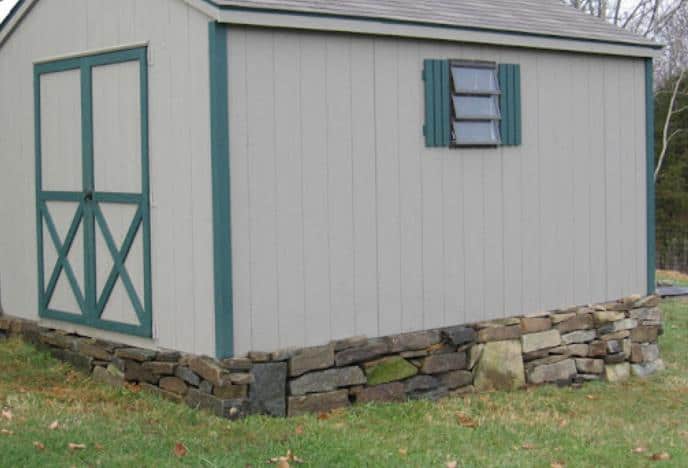 Image By RockOfAgesMasonry.com
Considering a shed skirting technique that uses natural rock to bring out your wildest design imagination? Then you should go the masonry way.
However, this is not entirely a thing for DIYers. It may require professional installation owing to the level of precision injected into the installation process.
Going for natural stone storage shed skirting is a splendid choice for obvious reasons.
First of all, natural stone offers a wide array of colors, patterns, and textures to your shed gap design. Secondly, natural stone offers excellent durability compared to synthetic stone, is more visually appealing, as well as highly eco-friendly. Skirting your shed with natural stone also sets you apart because it cannot be mimicked allowing you to bring your unique designs to life.
This shed skirting idea is ideal for both large and small sheds. While closing off bottom of shed, it also does a great job at keeping away rodent and animal infestation. So, with masonry shed skirting, you get both functional and aesthetic benefits.
Variety of shed skirting designs
Excellent aesthetics
Long-lasting material
Environmentally-friendly
Cannot be replicated
Easy to maintain
Great value for money
Requires professional installation
Heavier than artificial stone
Time-consuming
May attract mildew on the surface
5. Mobile Home Vented Vinyl Skirting Panels
Mobile home vented skirting is certainly one of the best and sturdiest ways to secure your shed's open space. The vinyl skirting panels are 16 inches wide and 35 inches long making them ideal for all shed sizes.
They are super easy to install hence an easy task for DIYers. All you have to do is cut the vinyl panels to the right size and install them around the shed's base. 
This will not only leave you with a covered base hole but also a professionally finished look. What is more, it comes at a fairly cheap price.
With this DIY shed skirting method, it is possible to match your shed's style to the panels' multiple colors and styles. Compared to regular vinyl, these special skirting panels are thicker, stronger, and hence able to withstand even the heaviest impact from movement and equipment stored inside the shed.
Moreover, they are also vented to allow for airflow to prevent moisture buildup beneath the building making this one of the more widely used storage shed skirting ideas.
Easy cutting and installation
Produces an excellent finish
Comes in matching colors and styles to the shed
Thick and sturdy for great impact-resistance
Relatively inexpensive
Provide good air circulation
Attractive material
Vinyl is less durable compared to masonry skirting.

With brick skirting, you can give your shed a beautiful and solid appearance leaving you with an all-encompassing classic look.
Once installed, it will be hard for anyone to tell a mobile shed from a permanent one.
As great an idea as it sounds, brick skirting is strictly a thing for the experts. A DIY attempt without any bricklaying experience might result in a crooked, unappealing, and unsafe storage shed structure. Besides, the mortar-mixing process might demand more than your labor. Probably the labor of you and a couple of your friends.
This storage shed skirting idea is most suitable when complementing your brick home or your brick-foundation home giving the home and the shed a perfect blend of aesthetics. Compared to vinyl and wood skirting, brick skirting is rather costlier but in terms of durability, one of the best.
Unlike concrete blocks, it is also possible to add airflow vents into the brick skirting without necessarily sacrificing safety from rodents and pets. This is a great choice for closing off bottom of shed.
Highly durable
Produces a perfectly finished look
Good for vent addition to support air circulation
Great at keeping away rodent infestation
Costlier compared to vinyl and wood skirting
May require professional installation

Skirting your storage shed with raised flowerbeds guarantees you lasting shed beauty as you keep trimming, watering, and weeding the beds.
The beds can be constructed from wood or stone in form of slightly elevated walls.
 If you choose to work with wood, make sure you select the right type to withstand all manner of rotting. The height of the bed skirting will depend on the shed's crawl space or your preferred dimensions.
To keep the sides of the flower bed from bending apart due to continuous soil pressure, erect some cross supports every few inches apart when using timber walls. Because such beds are raised several inches above the ground, burrowing pests will find it difficult to penetrate the sturdy barrier. As for as DIY shed skirting ideas go, this one is also 100% eco-friendly.
However, with raised flower beds as shed skirting comes to the downside of frequently managing the beds, dealing with rainwater splashes against the shed walls, as well as the gradual buildup of mold and mildew around the shed walls.
Easy to install
Produces a beautiful finish
Extremely affordable skirting option
Highly eco-friendly
May require regular maintenance
May act as a conducive habitat for bigger rodents
May retain moisture and foster rot buildup
8. Vinyl Shed Lattice Fencing
Additionally, vinyl lattice hardly sustains any scratches and never discolors guaranteeing the integrity of your skirting's visual appeal over a good span of time.
Vinyl shed lattice skirting comes in standard white color, but you can always paint it to match the existing structures or décor. Vinyl plastic is not only durable but also sturdy enough to resist even the highest impact from the weight of the shed. Apart from scratches and discoloration, it can also resist warping, splitting, or twisting. It can therefore tolerate extremely cold or hot conditions.
The lattice fencing has fixed dimensions at 48 inches long and 24 inches wide. It may be limited in certain shed applications, especially those with a bigger crawl space. This is one of those shed skirting ideas that just about everyone loves.
Weather-resistant
Moisture-resistant
Fade-resistant
Scratch-resistant
Impact-resistant plastic
Durable aesthetics
Can be custom-painted to match shed décor
Requires minimal maintenance
Not an eco-friendly skirting option
Comes with limited height dimensions
9. Pressure Treated Lumber Boards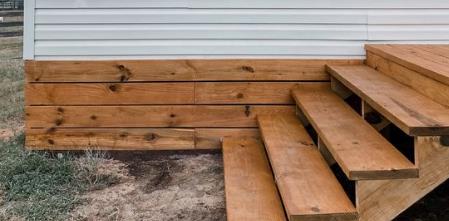 Another attractive and simple way of skirting your shed is by using pressure-treated lumber boards.
It is a project for the DIYer as all you have to do is cut the decking boards to the appropriate width and length and then run them along the length of the shed sides to seal the gap. 
In case of wider gaps, stack the boards on top of each other and where necessary, cut them to size using a hand saw.
While pressure-treated lumber boards will seal off the crawl space and keep away pests and rodents, they will at the same time hinder proper airflow further interfering with the shed's underside ventilation. Although wood is commonly known to be prone to decay, pressure-treated lumber says otherwise.
With a special chemical preservative infusion, this skirting material offers better protection from fungal growth, elements, pest infestation, and bacterial growth than untreated lumber. This makes the skirting sturdier and durable.
The boards are also less expensive than concrete and brick skirting. When exploring ways of closing off bottom of shed, this is one of the tried and true shed skirting ideas that will last for years.
Perfect for keeping away rodents and other intrusive animals
Cheaper than brick skirting
Moisture-resistant
Fungi-resistant
Insect-resistant
Fire-resistant
Easy to install
Highly durable
Prevents proper air circulation beneath the shed
10. Faux Brick Panel Skirting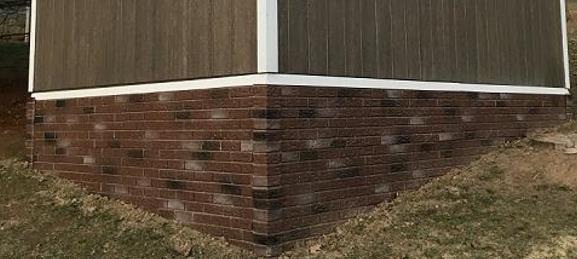 Image by SkirtingDirect.com
What a creative and innovative way to infuse the real with the imagination and take your shed's visual appeal to a whole new level!
Faux brick panels let you enhance your shed's curb appeal by creating an appearance of an authentic brick foundation.
This skirting option is therefore an affordable alternative to natural brick skirting and perfect for adding beauty and distinction to your shed. However, compared to wood and vinyl, its attractiveness comes at a hefty price.
The bricks have been built for a super quality, infused with several coats of paint, as well as color bonded for a durable authentic brick finish. The panels measure 42 inches wide and 18 inches high in terms of coverage and are hence ideal for different shed sizes.
This shed skirting idea is great at keeping out rodent infestation by sealing off the gap completely. That also means poor ventilation underneath the shed.
Versatile design styles and color options
Highly durable
Cheaper compared to real bricks
Easy to install
Extremely lightweight
Excellent protection from pests and rodents
Costlier than vinyl and lumber skirting
Poor ventilation
11. Horizontal Vinyl Lap Siding
Vinyl lap siding is one of the most durable storage shed skirting materials.
It can be fastened to cement blocks or plywood frames or foams for insulation and comes in many different colors and profiles to match the shed's décor and structure.
This skirting material is built to not only last but also to provide an authentic shed finish. 
It is also a low-maintenance skirting idea hardly ever needing painting or refinishing once installed.
The surface of horizontal vinyl lap siding is layered with a special paint protection coating to shield its color from UV rays. To protect the shed against strong winds, the shed skirting is also equipped with tuff locks that secure the vinyl panels and staggered nail hem in place.
Its special texturing pattern adds an extra layer of beauty to the durable authentic shed look. These storage shed skirting ideas are also eco-friendly and low maintenance because the panels are resistant to scratches and dents.
100% recyclable material
Simple maintenance
Durable panels
Scratch, dent, and hail damage-resistant
UV rays-resistant
Comes in multiple color pallets
3D appearance
Provide poor ventilation
Extremely rigid
12. Fretwork Screen Panels
Fretwork screen panels do not only act as shed skirting for protection. They are also innovative decorative solutions that make personalizing your shed a simple reality.
They are crafted from a thick polymer material that guarantees durability as well as low thermal expansion and contraction.
The shed skirting material is, therefore, able to tolerate extreme climatic conditions and provides great resistance to warping, rotting, twisting, scratching, splitting, as well as discoloration.
Fretwork screen panels are an excellent way to put your creativity on display through their diverse stylish designs. All that in a simple DIY process. The panels are also extremely lightweight, allowing you to install them with much ease.
However, they are highly rigid and cannot be cut without ruining their integrity. This might hinder the flexibility of application. Screen panels are one of the easiest DIY shed skirting to install.
Compared to concrete blocks and brick skirting, screen panels are less costly when exploring storage shed skirting ideas.
Easy to install
Long-lasting
Highly chemical-resistant
Lightweight
Provide excellent thermal insulation
Can be easily customized to suit shed décor
Warp, scratch, rot, and fade-resistant
They are only slightly bendable
Cutting them ruins their integrity
13. Chicken Wire Skirting
While it may not be a good option for aesthetics, it is most certainly a great option for protecting your shed's gap from animals while ensuring maximum ventilation to prevent mold growth.
Chicken wire is crafted from top-grade metal that is further fortified through galvanization to boost its longevity.
The wire nets take a hexagon shape and when made tight enough, may keep out rodent infestation.
The wire is sturdy, lightweight, and the net patterns are uniformly spaced, making it extremely easy to install and maintain. Compared to other galvanized skirting, chicken wire is very affordable.
The double directional hexagonal twists have been designed to stay flat and straight, making a DIYer's job a bit straightforward. The wire netting can also be trimmed to your ideal size during application. Once trimmed appropriately, simply attach it to the shed's framing using a staple gun.
With this under shed skirting, you never have to worry about ventilation because air flows freely under your shed. The wire is also resistant to rust, ensuring long-term shed protection. This DIY shed skirting is not pretty, but it does the job.
Long-lasting material
Easy to install
Very affordable
Provides excellent ventilation
Lightweight and sturdy
Rust-resistant
Can be chewed through by rodents and pets
14. Real Willow Stick Lattice Skirt
Other than for skirting, the willow stick lattice can also be used to support climbing plants indoors and outdoors, fence, as a divider, as well as an expandable door, making it one of the more versatile shed skirting ideas out there.
The installation of this stick lattice skirt is fairly easy even for DIYers. Simply expand or contract the willow sticks to your desired size and start binding them to your shed's framing. When fully expanded, the willow stick lattice measures 22 inches by 120 inches and 11 inches by 47 inches when fully closed.
Thin as they are, willow sticks are sturdy enough to fully protect your shed. High-quality rivets have been used to connect the willow pieces making them super strong and flexible. Compared to pressure-treated lumber boards and bricks, real willow stick lattice is very affordable storage shed skirting material.
Versatile applications
Expandable frame
Easy to install
Made from natural wood
Eco-friendly
Super strong connection joints
Highly affordable
May break when fastened using screws
15. Cinder Block Skirting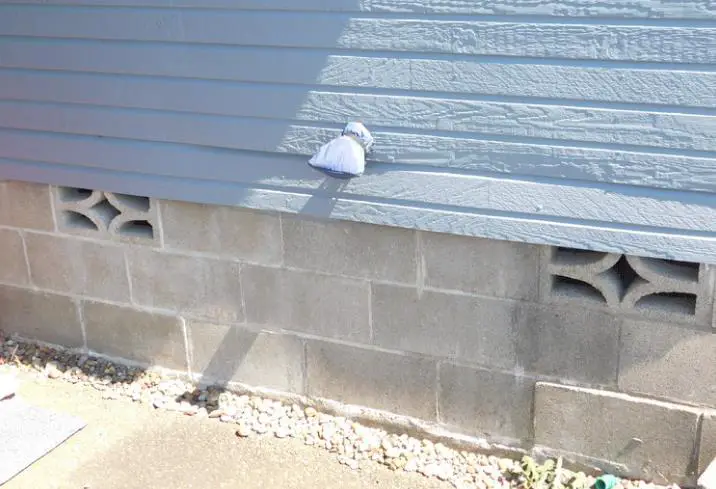 Cinder blocks are a quick and easy way to close off the bottom of your shed.
The blocks comprise concrete masonry units mostly made up of concrete and coal cinders and are fairly easy to set up.
Just place the cinder blocks on the ground, bind them through mortar, and level them accordingly to fill up the entire gap just like with vertical brick layering.
No costly concrete pouring or additional ground preparation is needed. These blocks are great at providing extra stability to your shed's foundation.
As opposed to concrete blocks, cinder blocks are fairly cheap to set up. They are precast construction materials and may be priced at slightly below $5 per block.
They are lighter than bricks and natural stone hence easy to lift and move around even by a single individual. This is mostly due to the cut-outs in their middle, leaving behind a hollow rectangular shape. However, this makes them structurally weaker than their brick counterparts. When exposed to moisture, they can be prone to buckling.
Easy to install
No extra concrete needed
No additional ground preparation required
Minimal digging
Provides extra shed durability
Relatively affordable compared to concrete blocks
Lighter than bricks
Weaker than bricks
Prone to moisture damage
16. Artificial Ivy Trellis Skirting
Made from willow, polyethylene, and polyester, this expandable skirting is built to tolerate even the harshest weather elements and will still be in great shape many years later. When considering storage shed skirting ideas, ivy trellis makes an aesthetically pleasing addition to your yard.
The authentic-looking artificial green leaves can also withstand UV rays and are moisture-resistant. They guarantee you the green coloration all year round, and you don't have to prune the plants. The skirting can be installed around your shed bottom as soon as it is acquired because it doesn't need time to grow.
This type of under shed skirting is also adjustable, and its fully expanded size is 22 inches by 120 inches, and the fully closed size is 11 inches by 47 inches. It is super easy for the DIYer to install using zip ties and is extremely affordable.
This DIY shed skirting is good for decoration and does a great job of allowing maximum ventilation beneath the shed. It also comes in different shades of green.
Realistic looking leaves
Eco-friendly
Easily attaches to most surfaces
Remains green all year round
Versatile applications
Adjustable size
Produces excellent visual appeal
Low maintenance
Durable
Cannot be painted for additional aesthetics

Another natural and eco-friendly way to conceal the gap between your shed floor and the ground bearing it up is using natural plants.
Other than serving the skirting purpose, natural plants are also good for their fragrance, flowers, and foliage.
With such beauty, all the unsightly details beneath your shed bottom will stay hidden naturally. The evergreen foliage produced will help conceal the crawl space all year round, making this a great storage shed skirting idea.
Acquiring natural plants is rather cheap and growing them very easy. You simply prepare the ground, assess the soil, plant your flowers, and watch them grow as you constantly monitor their condition. The downside of natural plants is the frequent maintenance needed in form of pruning, weeding, and watering.
The plants may also take significant time to fully grow and attain the desired skirting height. Natural plants may also be vulnerable to sunlight, chemicals, and pest infestation.
Add natural color, fragrance, and beauty to your shed bottom
Eco-friendly
Easy to set up
Extremely affordable
Easy to maintain
Provide year-round visual appeal
Require regular maintenance
Are prone to UV exposure and may die
May act as a breeding ground for rodents and pests
They take time to grow
18. Duraskirt Concrete Boards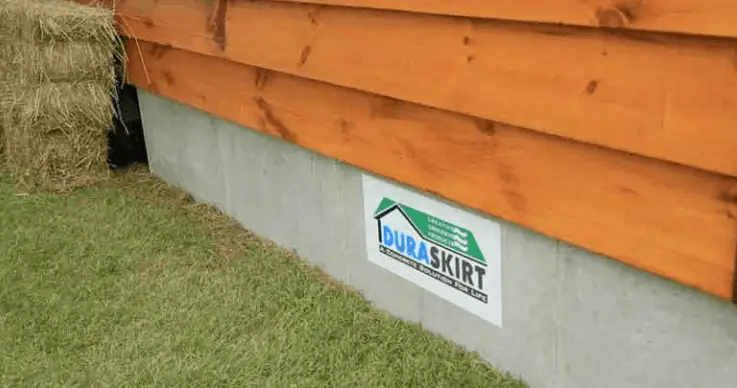 Duraskirt concrete boards are made from real concrete and that already tells you durability is guaranteed when installing this skirting beneath your shed floor.
The boards are an easy way to close off the bottom of your shed because no footing is needed.
Cutting the Duraskirt panels is also easy using a diamond blade in a circular saw.
 Other than the saw, you will also need a shovel and a caulking gun during the skirting. The rest is an easy task depending on your desired panel height.These skirting boards offer great protection with only minimal maintenance needed.
Furthermore, they are equipped with a hidden vent running across the length of the storage shed skirting. With this special addition lacking in other skirting material, you won't have to worry about dead air that comes with standard vents or large animals intruding your crawl space.
The only downside of these boards is their huge cost compared to lumber and wire skirting. But since they are strong, resilient, and durable skirting material, they are surely worth the investment.
Nutrient-free to keep away termites
Long-lasting material
Low maintenance
Comes with hidden ventilation
Perfect for keeping away large animal intrusion
Provides an excellent home finish look
More expensive than wood and wire skirting
19. Corrugated Metal Shed Skirting
Therefore, the skirting material is stronger than galvanized metal and more resistant to moisture and chemicals. This means it is also resistant to rust.
Because you are dealing with real metal, you will need a pair of leather gloves during the installation of this metal skirting. However, since the edges of the metal are hemmed perfectly, safety is guaranteed. The hemming also adds a sense of style to the skirting further enhancing the shed's visual appeal.
Depending on the height of your shed's crawl space, you can select from three available skirting heights. That eliminates the tedious process of cutting and trimming.
In terms of pricing, corrugated metal shed skirting is far cheaper relative to concrete skirting yet with almost similar resilience.
Highly durable
Excellent scratch resistance
Moisture and chemical-resistant
Comes in versatile design styles
Hemmed edges for extra aesthetics
Doesn't experience rust or color variation
Cheaper compared to concrete skirting
Some profile designs may suffer scratches over time
20. Gorilla Thermal Insulated Panel Skirting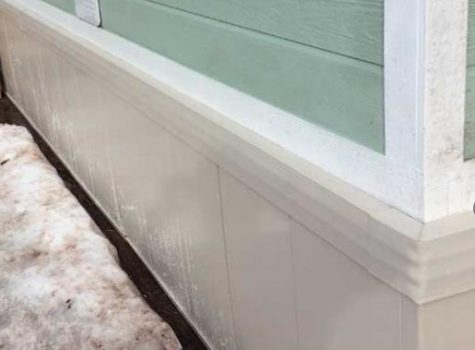 Image by SkirtingDirect.com
You don't have to keep losing valuable heat beneath your shed for lack of quality insulation or skirting. Thermally insulated skirting panels have been designed to address just that.
These Gorilla panels are embossed with wood grain to enhance their insulation capability, and that's exactly what you need to maintain an energy-efficient workspace.
When installed, the insulated panels leave your shed with a somewhat traditional foundation finished look.
They come in two height sizes at 36" and 48", and 47" wide and are available in three colors to match your shed's color – desert sand, white, and silver grey.
Thermal insulated panels are also extremely easy to cut and install even for the DIYer. They easily interlock and do not require additional framework support further simplifying the whole installation process.
The panels can also be configured to accommodate ventilation for proper air circulation under the shed and are very affordable, too.
People who live in colder climes consider the added insulation necessary if using the shed as a workspace. So if you live in a snowy area and are looking for what to put around the bottom of shed, this is probably the option for you.
Perfect for a customized look
Enhance the visual appeal of the finished skirting
Excellent thermal insulation
Easy to cut and install
21. Boardwalk Vinyl Panel Skirting
Customize your shed foundation in a unique and creative sense using boardwalk vinyl panels.
These panels provide the perfect shed base accent to produce an attractive finish while providing long-lasting shed protection from moisture and animal damage.
They are flexible in application and can be painted to match the shed's décor and structure.
Made from a sturdy material, vinyl panels are incredibly strong, warp, rot, twist, and split-resistant. They do not suffer discoloration and will hardly show any scratches on their surface.
The vinyl panels are also well-aerated, ensuring continuous air circulation underneath the shed to prevent mushroom or mold growth. Compared to brick panels, boardwalk vinyl panels are cheaper and also fairly easy to install.
When considering shed skirting ideas, this boardwalk design makes for an attractive setting for those who like to entertain with backyard BBQs.
Can be painted for further customization
Low thermal expansion and contraction
Heavy-duty and durable
Great at enhancing shed's aesthetics
Easy to install
Can easily resist rot and warping
Do not fade easily
Difficult to remove in mobile sheds
The aeration spaces may let in smaller rodents and termites.
22. Thermal Insulated Foam EverRock Skirting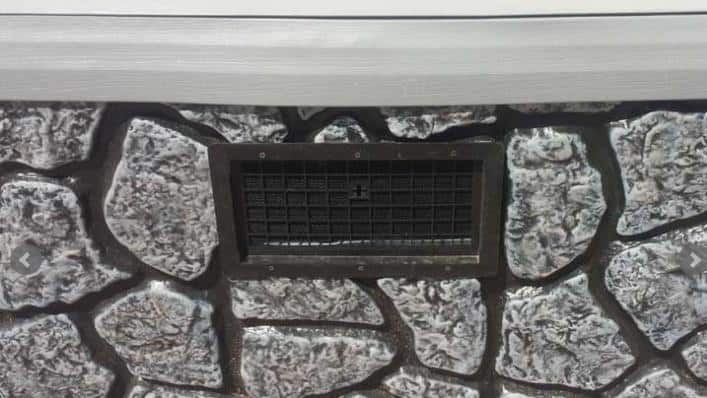 This is another energy-efficient way to skirt your shed for the long haul. Not only does it keep your shed ever protected but also helps you save on your energy bills if you need electricity running to your shed.
As the name suggests, this skirting material entails EverRock skirting panels perfectly insulated with insulating foam that is 1" thick to keep foundation heat loss at a minimum.
Beyond energy loss prevention, the insulated foam skirting is also designed to give your shed a unique rock foundation finished look further enhancing your shed's curb appeal.
The material used in the thermally insulated panels is vinyl, meaning it is wear and tear-resistant, stain-resistant, scratch-resistant, and easy to clean. These foam panels are also easy to install because no additional framing is needed.
In terms of aesthetics, EverRock panels are available in three color varieties to suit your shed's décor and style. Relative to natural stone and real brick skirting, insulated foam EverRock panels are very affordable. This is one of the most attractive shed skirting ideas on the market today.
Insulated foam panel skirting is a must if you live in a cold climate and use your shed as a workspace.
Low maintenance
Easy installation
Come in multiple colors
Excellent natural stone aesthetics
Scratch and dent-resistant
Flame retardant
Closing off the bottom of the shed made easier!
When researching what to put around bottom of shed, there are many beautiful ideas to choose from. Having discovered the best ways of DIY shed skirting, just go ahead and do it.
Not only is it a simple exercise but the rewards are far greater as well. By skirting your shed the right way, you are essentially enhancing its aesthetics as well as protecting it against infestation. So, it's a win-win!