TOP 8 CUPOLA KITS REVIEW & BUYING GUIDE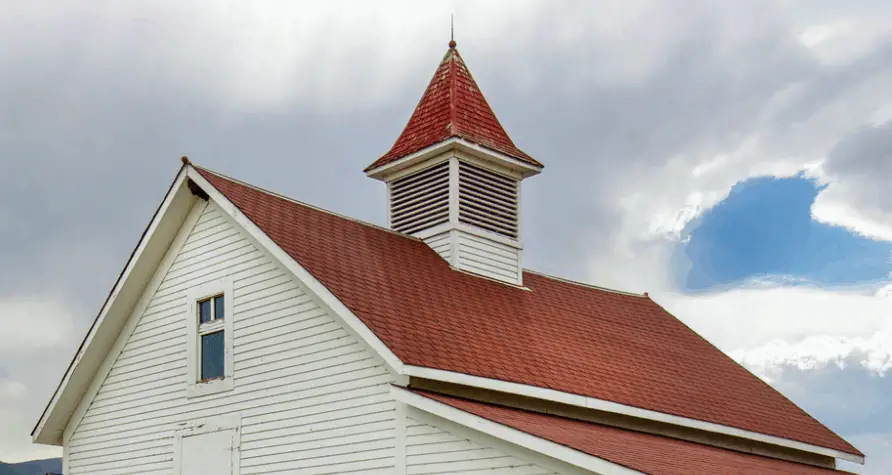 Cupola Image by Kevin Bree – Unsplash
Need help choosing the perfect cupola kit for your shed? You are in the right place then.
Cupolas help to improve natural lighting and ventilation through your roof. When installed on the ridge of the roof, it appears as a beautiful accessory and adds to the overall aesthetic of your home. They come in various styles and designs. The options can be overwhelming sometimes due to the variety.
To save you time and hassle, we took the initiative to do all the background research for you. After thorough research and comparing several shed cupolas we have shortlisted the 8 best cupola kits for you.
Buying Guide For Shed Cupolas
The options are narrowed down for you and now it is easier for you to choose the best shed cupola for yourself.
Moreover, make sure to check out the buyer's guide below, it will help you in your selection.
For free DIY Cupola Plans to build from scratch, click here.
Kent Pure Cypress Wood Cupola by Good Directions
Good Directions is one of the pioneer manufacturers, known for its Made-in-the-US Cupolas.
This Kent wood cupola features premium-grade cypress offering durability and adding to its overall aesthetics.
The construction quality is exceptional and it is available in a variety of different sizes to easily fit most roofs.
One of the best parts about this shed cupola kit is its easy installation. It arrives in three sections; roof, base, and vent section. It includes an easy-to-follow guide with clear directions. Hence you can install it yourself.
Often, people need to purchase a professional installation service; however, you can save that money with this Kent Cupola. It features predrilled holes that make your task even easier.
Besides, you can paint the shed cupola with a color of your choice. It will help to improve the look and longevity as well. Before buying, make sure you check the manufacturer's size chart to find the perfect cupola for your roof.
Feature louvers at 40°, preventing rain from entering the building
Comes with sturdy cypress wood construction for excellent durability
Ideal cupola for roofs of all sizes
A few users suggest that the weathervane hole needs some modifications
Manchester Vinyl Cupola with Pure Copper Roof by Good Directions
This is one of our favorite "Cottage Size" cupolas ideally suitable for small sheds. It comes with vinyl finishing that gives your roof an elegant look.
Want to know the best part? This vinyl cupola is rot and maintenance-free, making it a durable and affordable option as well. You can also use acrylic paints to further expand its life span.
Another great thing about this shed cupola is its construction quality. It features reinforced rafters on the roof. Plus, 18 gauge heavy-duty staples provide it with optimal durability and strength.
For your convenience, it also includes a pre-installed weathervane bracket. To enhance the look, you can even light the inside.
Unlike others, Manchester Vinyl Cupola is very easy to install. Not just that, it even includes assembly hardware, pre-drilled holes, and an in-detailed installation guide.
It just does not end here; Good Directions offer a lifetime warranty with this cupola kit. Hence, there are very few chances of any disappointment from your side and this cupola will offer you the utmost value.
Delivered in three separate sections makes installation hassle-free
Weathervane can easily be fitted due to pre-manufactured opening
Heavy-duty construction with an elegant look
Only comes in one size – 20 x 22
Kent Vinyl Cupola with Wood Roof by Good Directions
If you want a vinyl cupola with a wooden hip-style roof then this is the best option for you.
The most attractive thing about this Kent vinyl cupola is its rot-free and maintenance-free construction.
18 gauge heavy-duty staples provide it the durability and strength which make it the perfect option to invest in.
For easy installation and convenience, the shed cupola kit is delivered to you in three sections. Besides, with predrilled holes and an easy-to-follow installation guide, the process is easier than ever.
This classic style shed cupola is available in many sizes, so make sure you buy the one that is suitable for your roof. The cap can be painted to match your shed.
Like all other Good Directions cupolas for sheds, this one also features louvers at 40° to prevent rain from entering the building. A very useful feature, especially if you own a barn.
Though few users reported delivery problems. Good Direction addressed this issue and ensured that all its customers receive top-notch delivery service.
Comes with a built-in internal mounting bracket for easy installation of weathervane
Smooth and easy installation with easy-to-follow instructions
Excellent support service
No major con with this one
Teton Vinyl Cupola with Copper Roof by Accentua
Continuing with the theme of versatility here's another cupola with vinyl finishing and peaked copper roof.
Accentua is also a popular brand when it comes to high-quality cupolas.
Teton's style and design make it the ideal cupola for sheds, garages, pavilions, garden buildings, and barns.
This shed cupola also comes in three sections; base, vents, and cap to make installation easier. It will take you 1 and half hours to complete the installation.
Ideally, you can install it on roof pitches that are 10/12, and with the uncut base, you can customize it according to your roof size. It is available in only one size – 20 inches. Besides, you can also paint the vinyl using high-quality spray paint to enhance the look.
Its copper roof will patina with time making it more colorful. We highly recommend this shed cupola kit; it is one of the best at this price point. There are other cupolas for sheds of the same quality but more expensive.
You will not face any delivery problems nor have to worry about damaged parts. You will not regret buying this shed cupola.
White cellular PVC offers it maintenance free-construction
Attractive and stylish design
Louvered midsection to keep the rain away
Only comes in one size – 20 x 26
Westport Vinyl Cupola with Peaked Copper Roof by Good Directions
If you are looking for a stylish and attractive shed cupola then you cannot find a better one than Westport.
It includes a window design that offers your roofline a very graceful look and it allows a lot of natural sunlight into your building.
Its highly peaked copper roof will support a heavy-duty weathervane and will patina beautifully over time.
Like its accomplices, it also comes with maintenance-free and rot-free cellular PVC vinyl.
However, the highlighting point of this shed cupola is its reinforced wood cross beam and enhanced structural integrity offering it optimal durability. It comes in a variety of sizes and can easily fit roofs of 10/12 pitch.
It features a pre-installed weathervane bracket and easy-to-follow instructions. This shed cupola is so good that you will not find any negative reviews about it.
Want to hear the best part? It comes with an exclusive lifetime warranty, hence complete protection in case of any inconvenience.
Compared to others, this shed cupola is slightly expensive and might dig deep into your pockets. Hence, if you have a flexible budget, then would highly recommend, you should consider buying this shed cupola kit.
Reinforced copper roof with rafters
Lifetime Warranty
Excellent built quality
Manchester Cypress Wood Cupola with Copper Roof by Good Directions
Manchester Louvered Cupola comes with minimal style and design that offers your roofline an old and classy look.
It is available in many different sizes from small to extra-large and can fit a 10/12 pitch roof (most roofs.)
What we like the most about this cupola kit is its premium-grade Cypress construction. It not only adds to its overall aesthetics but also provides the utmost durability and strength.
This cypress shed cupola can also be painted in the color of your choice.
Like all Good Directions' cupolas, this one also comes with the necessary features which include a pre-installed weathervane bracket, easy-to-follow installation instructions, assembly hardware, and predrilled holes.
The roof is made with copper and includes reinforced rafters. Besides, for added strength and durability, the louvered midsection incorporates an interior wood framing brace.
Due to its style and design, this is an ideal cupola for anyone who wants to place an elegant and compact cupola for their shed. This shed cupola is surely going to get a lot of praise from your neighbors.
Stylish design
Heavy-duty construction with optimal durability
Ideal for all sizes of sheds and barns
Make sure the base dimension is the same size as your roof opening
Coventry Vinyl Cupola with Pure Copper Roof by Good Directions
This Coventry vinyl cupola is best known for its maintenance-free solid cellular PVC vinyl.  It is crafted using a CNC router that gives a precision cut.
Its enhanced structural integrity ensures the durability of this product along with a copper roof supported by a wood sub-roof.
Its internal weathervane bracket fits well in all directions. The top framing base of this cupola kit is made with wood in order to enhance strength and support.
One of the finest features of this Coventry cupola is that it comes with a brass seal to close the weathervane. This feature helps in enjoying the cupola without a weathervane.
The pagoda-style roof boasts 24 gauge pure copper and base sizes range from medium to very large. One of the best parts of this shed cupola is that it sports an arched louvered design that is at a 40-degree angle that helps in preventing the rain from entering.
Moreover, its superior strength roof has reinforced rafters along with 18 gauge heavy-duty staples. This helps in preventing the components from shifting and enhancing durability.
It allows simple assembly and easy installation as it comes in three sections along with an easy-to-follow guide.
Pre-drilled pilot holes for easy assembly.
Rot free
Pre-installed weathervane bracket inside the roof
Smithsonian Stafford Vinyl Cupola with Copper Roof by Good Directions
This unique Smithsonian Stafford vinyl cupola is the best to complement your shed, garage, or pavilion.
This cupola kit features attractive arched windows instead of louvers for superior ventilation.
It is crafted expertly using a CNC router and can be painted with exterior acrylic latex paint. It comes with a pure copper roof that will naturally patina over a period of time.
The roof includes reinforced rafters for superior strength. Its midsection is equipped with an interior wood framing base.
One of its highlighted features is the durability that comes with heavy-duty staples to prevent the components from shifting. Its enhanced structural integrity has precision cut rafters. This stunning shed cupola also includes a reinforced wood crossbeam along with a copper roof that is supported by a sub-roof.
Moreover, the pagoda-style roof adds an architectural element to its appearance and a long-lasting value. Available in many different sizes making it suitable for most roofs.
The weathervane fits well in all directions as it comes with a preinstalled internal weathervane bracket.
However, this shed cupola comes in three sections of easy installation along with an easy-to-follow guide.
Exclusive lifetime warranty
Maintenance-free and gives superior strength
Pre-drilled pilot holes for easy assembly
Buying Guide For Shed Cupolas
Material: Vinyl, Wood, Metal, Copper
The first thing you need to consider is the material the cupola is made from. Here are the most common materials used in cupolas for sheds.
Cupolas with vinyl finishing are maintenance-free and weather-resistant. Ideal for people who are looking for a durable option. It will add a finished touch to their shed.
Wooden cupolas for sheds are primarily crafted from primed pine or western red cedar. People who are into ancient or antique decor would love such cupolas. 
Metal cupolas offer a stylish look to your shed. They are available in most colors and help to improve your shed's overall look. They are durable as well.
Copper cupolas for sheds are not only aesthetically pleasing in look but also durable. Copper naturally patinas over time giving a unique look.
Construction quality directly affects the durability and longevity of the cupolas.
To ensure that you get the maximum value for your money, the shed cupola you are buying must be of high quality. Yet also must have the necessary features that fulfill your purpose.
You get to choose from different customization options; crown molding and base are widely preferred.  Besides, some cupola kits come with height adjustment features. You can do so with the help of a base extension.
Common features and  shapes include:
Hip-style roof
Pagoda-style roof
Louvered vents
Arched windows
Stained glass windows
Octagonal shaped
Pyramidal shaped
Peaked or Flat
Lighted
Natural Patina
Shingled
Painted
Weathervane Optional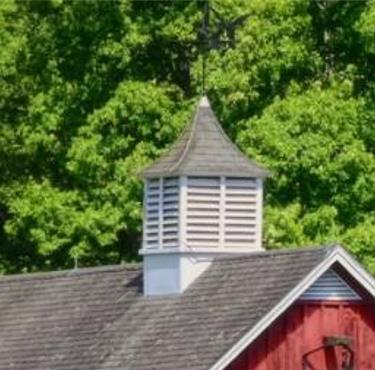 Cupola Image by Cameron Venti – Unsplash
Reading user reviews is the best way you can find out about the product.
When shopping online, you need to make the most of them. When you find the shed cupola kit of your choice, head down to the user reviews and check out what people are saying about it.
You can learn a lot about the product by just reading the user reviews.
Knowing your budget can also help you narrow down your options.
It can help you save a lot of time because then you can only look for shed cupolas that fall within your budget.
After all, cupolas for sheds can range in price from $150 up to $2000, depending on size, style, quality, and material.
Lastly, you need to check whether the manufacturer offers optimal warranty and support.
You are investing a good chunk of money, and there are chances that the product might not come out as the manufacturer says.
Or in terms of cupolas, they might get damaged during installation. Hence, if they are backed by warranty and support, you will not have much to worry about.

Cupola Image by Cameron Venti – Unsplash
1. Are Cupolas For Sheds Worth Buying?
Cupolas for sheds have a number of functional advantages in addition to improving the aesthetics of your shed. Whether you need to improve natural lighting or allow the flow of natural air into the building, they are well worth the cost.
2. How Much Does A Cupola Kit Cost?
A regular-priced and quality cupola kit usually starts from $300 and increases depending on the quality, features, style, and size. Extra large-sized ones can be priced around $2000. However, you can still get a small plain one for $150.
For large sheds over 48 square feet, you will 2 to 3 cupolas spaced evenly apart. See cupola size chart below.
3. Can I Install A Cupola Myself?
For any DIYer with a small amount of construction experience, you should be able to install a cupola by yourself or with the help of a friend. Most cupolas come with assembly instructions.
However,  purchasing professional services will ensure optimal installation and saves you from the risk involved, considering the product is rather bulky.
4. How To Install A Cupola Videos
5. How To Size A Cupola For A Roof
When planning what size shed cupola you need, a good rule of thumb is 1.25 inches to 1.5 inches per foot of unbroken roofline. We made this handy chart so you can quickly determine the perfect size you need for your roof cupola.
To sum it up, Cupolas for sheds can prove to be handy accessories to place on the roof. It enhances ventilation, natural lighting, and condensation.
They are especially suitable for barns, as provide a passage for harmful gases to leave which can be dangerous for animals.
With this article, we aimed to provide you with the top 8 best cupolas for sheds and all the necessary information you need to know about them. We hoped that you liked our list and that it included a shed cupola kit for your choice.
Lastly, we would like to thank you for reading this article. Enjoy your new shed cupola!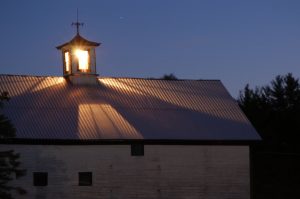 Image Julia Freeman-Woolpert FreeImages