BEST FOUNDATION FOR A SHED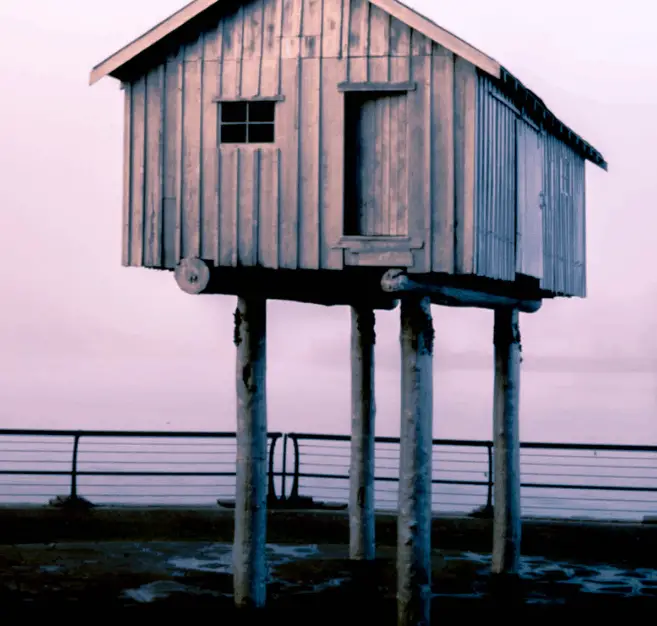 Image By Arnold Dogelis – Unsplash
Are you running out of garage space to stash all your nonessential stuff? Have you considered sharing your garage's workload with that abandoned shed in your backyard? Then you probably want to know what is the best foundation for a shed.
Everyone needs a shed. It's as essential as that much-needed extra storage space. But a shed won't help much if it has a poor foundation or lacks one completely. A shed that sits directly on the ground faces the risk of becoming damp causing the wood to rot, as well as metal rust. Ultimately, the contents of the shed will also suffer damage due to excessive moisture.
Moreover, the ground holding up your shed may be annoyingly uneven, causing doors to stick and threatening the stability of your shed.
But what if there was a way around all that–a proper shed foundation. A foundation helps lift your shed off the ground while providing stability and a level base for doors to open properly. Keep reading to find out the best shed foundations you can erect to make your shed live longer.
So, what are the types of shed foundations?  In this article, we cover the 11 best foundations you can use for your shed.
Poured Concrete Slab Foundation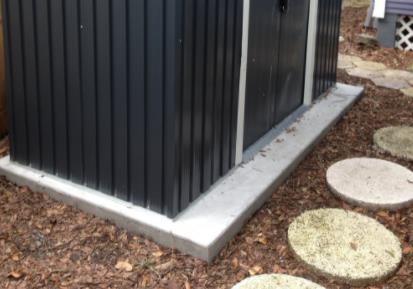 Image by Heightshandywork.com
A poured concrete slab is the sturdiest and most durable form of base foundation for your shed. It is ideal for sheds of any size; both large and small.
It is also a costly affair because of the materials and equipment involved, not to mention that it is highly labor-intensive. Building code regulations and standards may also shoot up the overall cost of pouring the slab.
Concrete slabs can be difficult to build because of the many steps involved, as well as the permanent nature of the foundation. A novice DIYer would struggle to find their way around cement construction. So, unless you have some experience, it is better left to the concrete professionals as any mistakes made become permanent also.
The dimensions of your shed are what will determine the area size of your concrete slab. Once complete, the slab provides an extremely strong foundation that can support even the weight of vehicles. Because the slab also sits very low on the ground, driving into it is made easier.
As you select the area to pour the concrete slab for your shed, make sure you can access the cement truck to avoid the extra expenses of a crane or pumper truck. Being a dense and well-compacted foundation, a concrete slab is highly resistant to frost and ground movement.
Ideal for both small and large sheds
Supports heavy loads
Provides the most durable foundation
Great for lower bases to provide easy access
It may be hard to remove when remodeling your garden layout
Costly to set up
Gravel Pad and Timber Frame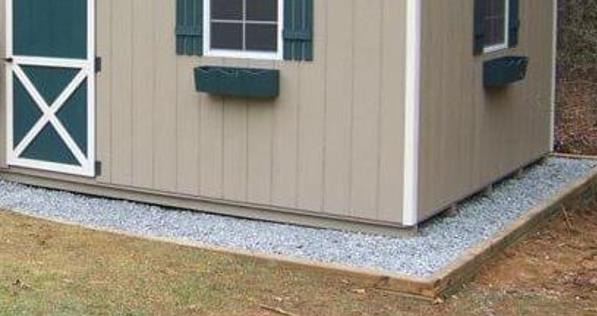 Image by Alansfactoryoutlet.com
A gravel shed foundation is a fairly simple one to set up for all shed sizes. It offers the most ideal foundation for portable sheds that come pre-built with a wooden floor and are suitable for flat grounds.
Setting up a gravel pad and timber frame shed foundation may prove moderately easy for a DIYer depending on the size of the shed and the amount of gravel needed.
However, the gist of the setup mostly involves leveling the ground under the gravel layer, leveling the timber frames, and squaring them out. Some of these steps may require the intervention of a construction expert.
Gravel is not only easy to work with but also environmentally friendly and relatively cheaper compared to a concrete shed foundation. It also has a significant load-carrying ability because you can spread the weight of your entire shed over the surface of the whole foundation.
A gravel shed foundation is porous and rough, acting like a sponge that wicks away water, preventing it from collecting around the base of the shed. This spares you the maintenance costs associated with rot and decay of the shed sides.
Gravel foundations offer better drainage resulting in minimal rot and decay
Ensures minimal water splashing against your shed
Relatively affordable compared to concrete
Moderately easy to set up and remove
Suitable for both small and large sheds
Easy to level
Not ideal for a sloping ground
May sink over time on wet soil
Presents a higher risk of ground contact resulting in shed rot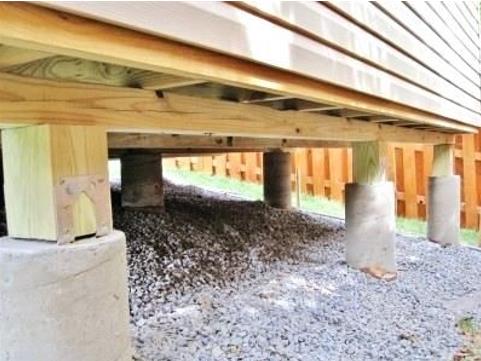 This type of shed foundation is made up of concrete piers with metal brackets to hold wooden beams. It is one of the more difficult shed foundations to build. A beginner DIYer may need help from someone with more construction experience.
Cement pier and beam shed foundations are ideal for both small and large sheds and provide a great foundation. They are also suitable for both sloping and flat grounds.
Beyond just sheds, this foundation type also works well with cabins and cottages and is ideal for all types of shed material.
To set up the cement pier and beam foundation, leveling the ground is not necessarily required, only determining the extent of protrusion of the piers above ground. A great level of expertise is required in leveling the piers vertically and horizontally, making it a difficult affair for newbies.
The dimensions of your shed will determine the number of cement piers required. The cost of setting up this type of shed foundation will mostly depend on the quantity of piers, as well as the dimension of lumber required to set up the beams. Other cost factors include the slope of the ground and the depth of the frost line.
Most ideal for frost-prone areas
Suitable for both small and large sheds
Blends well with most soil conditions
Provides a durable uniform base
Moderate to easy set up for beginners
The distance separating piers is not supported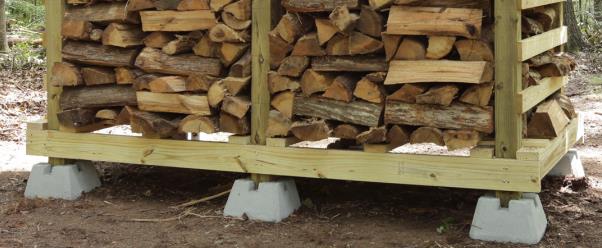 Image by epa.gov/burnwise
Cement deck blocks comprise concrete blocks that the wood fits in slats. They are ideal shed foundations for small or large sheds, low sheds, sheds around trees, low-frost areas, and cheap sheds.
These shed foundations are also fairly easy to install due to minimal ground leveling making them ideal for DIYers.
The deck blocks have a pyramid-like shape sitting on a square base. They have crisscrossing channels running on top of them for wood framing. They are placed directly on level ground and leveled with each other before setting up the wooden frames. The number of deck blocks you require will vary depending on the shed size.
Cement deck blocks are suitable for flat grounds, not slopes, and blend well with any shed material. When set up, these shed foundations position the shed closer to the ground, allowing easy access to the shed for lightweight machinery like the lawnmower. They are not structurally fit to handle the full weight of heavy machinery because they only support the floor partially.
The dimensions of your shed will determine the quantity of concrete blocks needed, and their cost is relatively low, almost similar to the price of patio stones.
Ideal for both small and large sheds
Easy to set up because of minimal surface preparation
Easy to level
Highly cost-effective
Unsuitable for sloping grounds
May sink over time
The distance between the deck blocks may not be fully supported.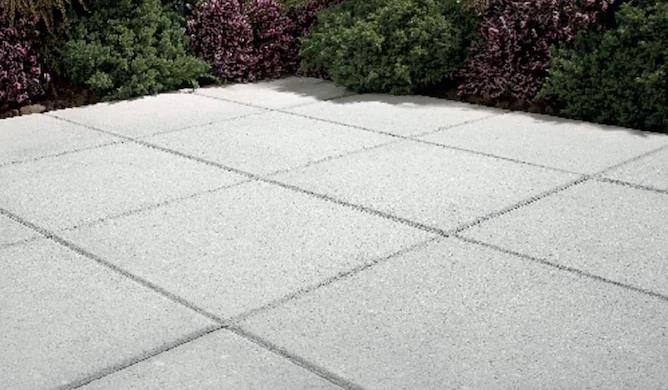 Concrete paving slabs are made up of cement squares fitted together. Concrete pavers are smaller than slabs. Slabs are for more heavy-duty foundations strong enough to support cars. On the other hand, paving stones are for beautifying pathways.
Setting up concrete paving slabs is fairly easy even for a DIYer, as all you have to do is clear the surface of the level ground before laying the paving slabs.
The foundation of paving slabs can sit on a sand base or leveled bare ground. When laid on a sand surface, the sand has to be leveled first. Once the flat base is set, concrete paving slabs uniformly support the floor of the shed placed or built on them. This further adds to the stability of the shed.
These foundation types are ideal for homebuilt or prebuilt sheds. They work well on flat surfaces and are most suitable for smaller sheds with or without a floor. They position the shed very close to the ground, making entry easy even for lawnmowers.
The cost of acquiring concrete paving slabs largely depends on their color, shape, and size. If you prefer larger pavers embedded with steel mesh, be prepared to part with more money. Additional costs may also arise from pouring a sand layer before laying the pavers.
Quick and easy to set up
Provide uniform support to sheds
Add stability to shed walls
Come in different shapes, colors, and sizes
May crack under the weight of heavy loads
Can sink into the soil over time
Not ideal for large sheds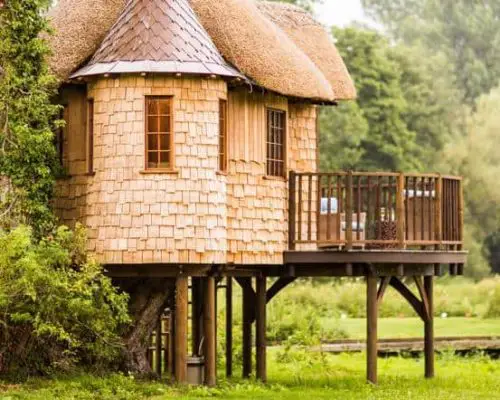 Image by Matthew Harwood – Unsplash
Laying a post and beam shed foundation involves digging a hole and pouring cement into it before placing a wooden beam inside. Alternately, form tubes filled with gravel or dirt can be used in place of cement.
The posts used are pressure treated and may vary in dimension from 4″ x 4″, 6″ x 6″ to 8″ x 8″.
Pressure treatment of wood means soaking the wood in chemical preservatives to keep away rot and insects from your shed.
The foundation created from these posts and beams is ideal for both large and small sheds and almost similar to the concrete pier foundation in outlook. Once you have drilled or dug the holes to hold the posts, place some gravel at the base to assist in drainage and ensure the posts sit on stable soil. The posts should also align with the location of the framing they will affix to and support. Level them accordingly to provide a level layer to hold up the pressure-treated beams.
The number of posts needed for this foundation is determined by the shed dimensions. Post and beam shed foundations are suitable for both flat and sloping grounds and can work with all shed materials.
Due to the level of difficulty involved in leveling the supporting posts vertically and horizontally, expert intervention may be required in laying the foundation. It is also a costly affair because of the concrete, gravel, and posts required for the job.
Good for frost-prone areas
Works well in both flat and sloping surfaces
Provides a durable even base
Suitable for both small and large sheds
No direct support between posts
May pose challenges to a beginner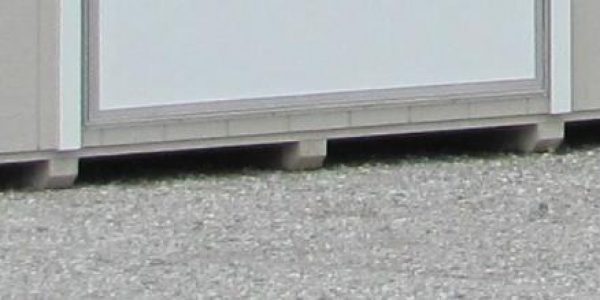 Image by BaldEagleBarns.com
This refers to shed foundation based on wood skids.The skids may entail any number of pressure-treated wooden posts or beams or logs spread parallel to each other to hold up the length of the shed.
This type of shed foundation is fast and easy to build even for DIYers and fits well with both large and small sheds.
All you have to do is first understand the dimensions of your shed, clear the ground of any vegetation, and level the surface you want to lay the skids on. Once all that is done, lay the skids and level them to each other.
Because the wood skids sit directly on the ground, this type of shed foundation is mostly ideal for areas with a fairly flat terrain. On a flat surface, the skids will provide uniform support throughout the shed's structure. As you lay the skids in the dug-out area, you can add some gravel for more compact leveling and better drainage to protect the wood from rot and damage.
The number of wood skids used is determined by the size of your shed. This coupled with the quantity of gravel used to lay the foundation is what will determine the overall cost of the skid foundation. All that is relatively affordable compared to other shed foundations.
Easy to lay
The shed can be moved anytime
Easy to level the foundation
Low foundation for easy access
May sink over time on wet soil
Adjustable Metal Shed Base
This adjustable metal shed base fits with all arrow sheds as a foundational kit. It is made from sturdy galvanized steel providing a durable shed foundation, and you never have to worry about rust.
This shed foundation is great at keeping your stored items off the ground, minimizing their damage.
It is also compatible with different shed sizes, including the 8′ by 8′, 10′ by 7′, and 10′ by 8′ sheds, and is pretty easy and fast to assemble.
That makes it a simple DIY assembling. Furthermore, the foundation assembly pieces and accessories are pretty lightweight and easy to move around.
These metal foundations sit directly on the ground, therefore, needing a flat terrain. Getting the ground ready for an adjustable metal shed base involves making it firm, flat, and even.
Ensure the metal base shares the same dimensions with your shed before laying it down. Read, interpret, and follow the assembling instructions keenly to set up the base in the recommended way.
The cost of the adjustable metal shed base is fairly affordable and covers the entire kit, garden cloth, and certain additional materials. However, some floor materials may have to be purchased separately.
Easy and fast to assemble and set up
Leveling the metal base is also easy
Ideal for small sheds
Provide a low foundation making access easy
Not suitable for sloping terrain
May require the purchase of additional base materials
Plastic grid shed base can be filled with gravel or pebbles to provide a strong shed foundation because it is good at keeping the gravel in place.
It is among the latest shed bases in the market and is made from recycled materials making it an eco-friendly choice.
The plastic grid foundation works in all climate types and different soil conditions.
The plastic grids are highly permeable, making them ideal for preventing flooding, mud pools, puddles, or potholes on your shed's floor, always keeping your shed dry compared to concrete foundations. Fitting the plastic grid shed base is also fairly easy and flexible as the material can be hand sawed for a custom setup. So, a DIY is possible with this innovative shed base.
This shed foundation is laid directly on the ground. That means it will work best on flat terrain. As you prepare the ground make sure it is firm and well leveled. Leveling the interlocking grid blocks should also be done with utmost precision to ensure a uniform shed foundation.
Compared to concrete shed foundations, plastic grid foundations are less expensive. That may depend on the gravel quantity, amount of garden cloth, and the number of grids required for your shed.
Requires little to no maintenance
Ideal for minimizing flooding
Works in all weather and soil conditions
Easy to install
Highly durable and sturdy even under heavy compression
Can be custom-fitted
Lightweight and easy to move around
Does not rot
Not ideal for sloping ground
Plastic deck blocks and post bases are most ideal for installing and anchoring posts for your shed foundation. They are easy to install with zero hole digging or concrete pouring required.
This shed foundation type blends well with 4″ by 4″ posts and 2″ by 4″, 2″ by 6″ and 2″ by 8″ joists.
The deck blocks are made from sturdy recycled material that also comes with a high UV rating making them eco-friendly shed foundation materials. They have also been specially designed with ventilated undersides to minimize moisture buildup and termite invasion.
Compared to concrete shed foundations, plastic deck blocks do not corrode, chip, or crack, making them durable. They easily nest together, making them portable and can be used for raised shed foundations. Moreover, plastic post bases can also be combined with concrete and steel supports. They can be installed in both uneven terrain and flat grounds, and they are built to avoid the buildup of water around and underneath wooden posts or beams.
Fitting your post or joist is fairly easy as you don't need to chisel or cut the plastic deck blocks. Even DIYers can handle the task without a struggle.
In terms of cost, plastic post bases are less costly than concrete shed foundations.
Lightweight and easily stackable
Environmentally friendly
Long-lasting against cracks and corrosion
Easy installation
Designed with good drainage
Ideal for standard raised shed bases
Suitable for both flat and sloping terrain
They may break when tightened
Adjustable helical posts are also called screw piles because they provide a screwable post foundation. They are an ideal foundation choice for sheds of any size and soils of any condition. Their outlook is similar to that of concrete piers and post and beam shed foundations.
The galvanized steel posts come with a screw end and are available in multiple dimensions. To drive them into the ground without triggering a vertical frost lift, you may require an excavator with a special attachment or a special handheld screwdriver.
Once the screw piles are secured in place, you can begin fixing the joists and beams and finish setting your shed. Adjustable helical posts blend well with any type of shed material and are suitable for both flat and sloping ground. Leveling the posts vertically and horizontally may require an expert's intervention.
Unlike other post shed foundations, adjustable helical posts are highly resistant to frost and, therefore, not susceptible to frost heaving. They are also more cost-effective relative to concrete foundations. Some of the things that may affect their pricing are the quantity of beams used, installation method, distance to the frost line, and the screw piles themselves.
Easy to install
Flexible height adjustment
Highly resistant to sinking
Can support heavy loads with ease
Frost-resistant
Demand special tools and skills to install
The distance separating the posts is not directly supported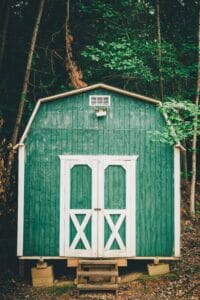 Image By Rex Way – Unsplash
Did this help?
We hope your most burning questions concerning shed foundations have been answered.
By looking at this information, you can tell what kind of shed foundation will work for you within your budget. And now that the guesswork is out of the way, you can choose to prolong your shed's lifespan by applying the right foundation.
By wisely choosing the best foundation for a shed you and your family can enjoy your shed for many generations to come!