HEATING A SHED WITH 25 TYPES OF SHED HEATERS (COMPREHENSIVE GUIDE)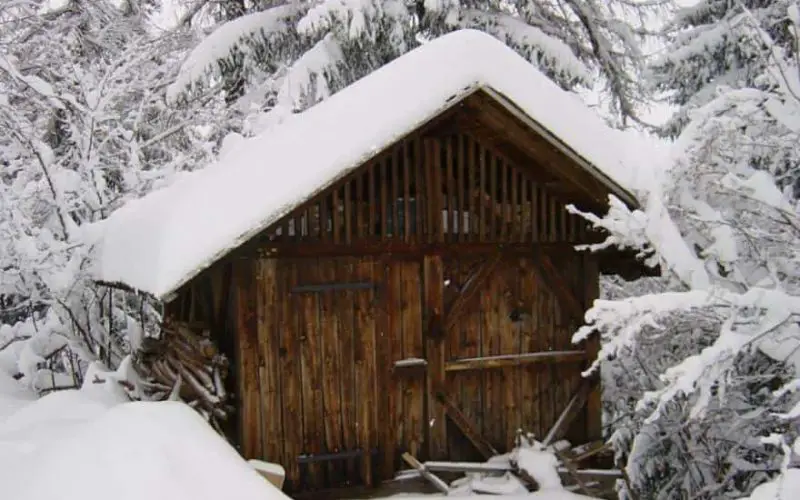 Heating a shed doesn't have to be difficult, but making a wise informed decision is important. Do you have electricity, no electricity, gas? Do you want portable or stationary? There are so many options to choose from. This comprehensive in-depth guide is designed to help you make a smart choice with no regrets come winter.
A shed is a crucial alternative when you need to free up some space in your house, garage, or garden. But why would you need to heat it?
Your shed can double up as a workshop, living space, home office, hobby shop, greenhouse, or even a space to preserve your valuables. Whatever the case, keeping the shed warm ensures it remains comfortable to stay and work in.
Since your productivity is on the line here, don't think twice about heating your shed for the cold winter months ahead. For the best heating solution, always analyze the layout and size of your shed, your shed's construction, its ventilation, its insulation, as well as its purpose.
Your choice of shed heater may come down to either radiant heaters or convection heaters. Radiant or infrared heaters focus on heating objects in the shed whereas convection heaters focus on heating the shed's air and further circulating the hot air within the heated shed.
What Major Considerations Should You Make When Heating A Shed?
When fuel burns, carbon monoxide (CO) is emitted. Inhaling this odorless and colorless gas can be fatal. Since combustible fuels such as heating oil and natural gas power most shed heaters, there is a high chance of toxic emissions.
If the shed is unvented or poorly ventilated, the CO produced may harm the occupants of a heated shed by combining with the indoor air and affecting breathing. Good ventilation is crucial.
A great solution would be an installation of a carbon monoxide alarm.
Do You Really Need To Insulate?
Properly insulating your shed walls ensures better thermal performance of the shed. It is an important consideration to make although not necessarily mandatory. You can still heat your shed effectively without insulation.
An insulated shed helps to save costs on energy bills, accelerates the heating process, retains the heat within for longer, and minimizes heat loss from especially strong winds. Depending on your end goal, this decision is highly personalized.
Size always matters! For optimal performance of your shed heater, considering the size in square feet of your space is of utmost importance.
If your shed occupies only a small space (below 400 square feet), then just a single small shed heater will be enough. On the other hand, medium-sized and large sheds (beyond 400 square feet) may require larger heaters with more BTU energy output to heat up comfortably. (BTU Calculator)
Therefore, striking the right balance between energy efficiency and the heating efficiency is imperative when deciding heater size.
Winter months can be harsh sometimes. You need to brace yourself with the right shed heater for the heating job. This will not only afford you a comfortable indoor atmosphere but also help you stay on top of your energy bills.
Therefore, in colder months or areas, you might want to consider shed heaters that can heat even below freezing temperatures.
There are numerous factors to be considered when selecting a shed heater. This guide will help you make a wise choice when it comes to effectively heating a shed. Keep reading to learn more about the broad classifications of shed heaters you can install along with their special considerations.
Indoor Portable Propane Heaters
These are radiant liquid propane heaters with a 1 lb. direct connection cylinder. They are ideal for heating closed small spaces, such as sheds or tents measuring up to 200 square feet.
They come with a professionally designed size to BTU ratio supplemented with a fold-down handle for maximum energy output. That means, occupying minimal shed space yet with a powerful impact. Their BTU ranges from 4,000 to 9,000.
Indoor portable propane heaters have a swivel regulator that allows you the flexibility to shift from a disposable gas cylinder. With just the addition of a hose and a filter, portable propane shed heaters can easily be connected to a remote gas supply.
The Piezo igniting technique integrated with these heaters simplifies the lighting process by rotating the knob to pilot and push. They work well both as shed heaters and emergency heaters, especially during winter storms.
Ideal for use as a propane shop heater to warm up a workshop to provide a more comfortable place to work.
Integrated with an oxygen depletion sensor (ODS)
Comes with an accidental tip-over safety shut-off
Ideal for multiple-space use (sheds, tents, patios, garages, barns)
Suitable for heating small spaces
Light and highly portable
Produces clean burning with a high energy efficiency
Easy to use
Simple installation process
Ideal for both indoor and outdoor application
Not ideal for high altitude areas (beyond 7,000 feet above sea level)
May produce low pressure with large propane tanks
Minimal flexibility to regulate the heat generated
The exposed flame may pose some risks
Wood-burning stoves are shed heaters installed mostly inside the house. They are commonly fixed within an open fireplace to fully maximize the efficiency of burning wood.
Compared to traditional open fireplaces, these stoves are much more efficient and have fewer emissions. They are also more controllable, hence ensuring maximum heat output within a heated shed.
These stoves are suitable for heating a shed of large size (up to 2700 square feet). They have an incredible energy output of 110,000 BTU/h, which is equivalent to 32.2 kW.
Wood burning heaters (or pot belly stoves) have an EPA certification of 1.32 g/h and are non-catalytic. That means, they qualify as environmentally friendly shed heaters.
They are designed with a spacious combustion chamber with a maximum burn time of 10 hours. You can therefore load the logs across the width and depth of the stove. However, the maximum log length is limited to 22 inches.
The installation of wood-burning stoves requires additional pipe installations and outlet flue especially in buildings without a chimney or existing fireplace. Check out the video for the entire installation process.
Suitable for mobile homes
Highly efficient
More heat output
Environmentally friendly due to lower emissions
Minimal firewood usage
Easy to use
Sustains longer fire durations
No need for electricity
Durable designs
Offers more flexibility control
High initial acquisition costs
High installation costs
May require some training to use
The stove's body can get extremely hot and pose certain risks
Must chop or buy firewood
Gas wall heaters come in both blue flame and red flame versions. They depend on natural gas to heat spaces and are most suitable for large sheds of up to 1,000 square feet.
While the blue flame heaters only warm the air in a given space, the red flame or infrared heaters further radiate heat. That means, blue flame heaters rely on convection heat to warm the air whereas red flame heaters first warm objects, which then radiate the heat to the surrounding air.
These 30,000 BTU natural gas heaters are not used in isolation as the primary source of heat. They have been designed to supplement the heating of a furnace. They also do not need external powering.
You can mount them on walls with a bracket or fasten them on the floor with a fastener. The blue flame heaters are ideal in spaces that require independent temperature control without affecting the rest of the space. They are fitted with a thermostat for that purpose.
For safety reasons, wall mounted gas heaters cannot substitute natural gas for propane or vice versa because they are supplementary heating sources only.
Come with a battery-powered electric spark mechanism
Operate on natural gas which produces clean burns
Variable heat output
No external powering required
A great solution for electric power outages
Easy to use
Comes with an oxygen depletion sensor
Ventless
Not ideal for high altitude spaces (4,500 feet above sea level)
Propane wall heaters share many similarities with natural gas wall heaters like the 30,000 BTU energy output. The greatest difference lies in the fuel source. While natural gas wall heaters rely purely on natural gas, propane wall heaters rely on liquid propane gas.
Propane wall heaters also come in blue flame and red flame (infrared) designs. They provide supplemental heating to large sheds of up to 1,000 square feet.
Wall-mounted propane heaters are easy to attach to or mount on your walls, so you don't have to incur the extra cost of demolishing the wall. They are ideal for workshops, garages, and small offices.
Ventless propane wall heaters also come with a built-in thermostat and adjusting the temperature is made easier through a knob. They have an extra timer knob feature that allows you to pre-set the heating duration.
Proper installation requires a considerable distance off the ground. This is to prevent combustible objects in the heated shed from going ablaze.
The infrared propane wall heater comes with an extremely sleek design that saves space when wall-mounted. It works by heating objects surrounding it. These objects then radiate heat all over the shed.
Light and highly portable
High fuel efficiency
No electricity is needed to operate
Easy to use
Hassle-free propane cylinder refill
Safe to use by separating tank and heater location
Varying versions cater to different needs
Ventless for indoors
Require substantial supply of oxygen to operate
It may be difficult to maintain
Portable Kerosene Heaters
Are you looking for safe indoor supplemental heating? Portable kerosene heaters should suffice for that purpose. They are suitable for large sheds of up to 1,000 square feet such as cabins, basements, or garages.
These powerful shed heaters come with a 23,000 BTU/hour energy output and rely purely on kerosene for power. They are therefore ideal in emergency heating situations whenever there is a power outage. They are also most ideal for zone heating, where heating is only needed in certain spaces as opposed to the entire space.
Portable kerosene heaters burn with a 99.9% efficiency, providing longer burns per gallon tank of fuel. Their automatic ignition as well as a one-touch extinguishing feature makes them extremely easy to use.
The fuel tank for these shed heaters is fairly simple to eject and has been designed with an easily readable fuel gauge to monitor consumption. A safety grille coupled with a tip-over shutoff mechanism makes up the highlight of safety design for portable kerosene heaters.
Therefore, you can expect minimal accidents. They also come with a siphon pump and a set of batteries to enhance functionality.
No electricity needed to run
Light and highly portable
Easy to use
Safe to use
Suitable for emergency use
Ideal for daily use for heating a shed
Only warm occupied spaces proving to be economical
Highly convenient with automatic power on/off switches
Come with a built-in safety switch
Highly fuel-efficient
Burn longer hours providing more convenience
Require a special kind of kerosene
Solar-powered heaters work through the integration of a solar panel and a fan air heater. The electricity demand may vary depending on the space covered and the size of the air heater. For example, one solar panel (100 watts) is enough to power a single 12-volt desktop air heater.
The output heat for solar-powered heaters revolves around 115 Fahrenheit after several hours of running. For this reason, this type of solar heater for sheds is only suitable for heating small spaces.
Furthermore, the output temperatures may vary greatly when you introduce an extra power source. That means one power source for the fan and another one for the heating element.
However, for consistent output temperatures, connect both sets of wires (fan and heating element) to the same battery or solar panel. The heating element and the fan only come into contact when sharing the same power source.
Apart from the 100-Watt solar panel, you can also use a 150-Watt solar panel or a 12V battery. If you increase the number of fans and heating elements, you also have to increase the power supply for optimal performance.
These DIY solar heaters can easily be mounted on homemade slanted stands. They are suitably used as desktop air heaters and heating a shed with solar. If considering solar heating for sheds, please watch this video.
A highly sustainable heating source
Environmentally friendly
Minimal maintenance
Easy DIY installation
Provides cheap supplemental heating
High initial panel costs
Do not store up heat for night use
Fans may not be strong enough for long-distance airflow
Electric Portable Heaters
These types of baseboard heaters are designed to be portable. That means, they can easily be transferred to any space that requires some extra heat, such as a small shed. They come affixed with a 120-volt plug that can integrate with any space. The design has been made such that these shed heaters can easily blend in with the décor of the heated shed.
Electric baseboard heaters do not rely on a fan to raise the heat generated. Through natural heat convection, they generate heat from electric current when plugged in. They then transfer their heat all over the shed without the clicking sounds that come with running loud fans. Moreover, the heat is evenly distributed throughout the shed.
To control the heating process, a thermostat mounted to the baseboard heater itself or on the wall can be used. As the name suggests, baseboard heaters are placed at the base of a wall. To run efficiently and minimize accidents, keep away furniture, drapes, and thick carpets or rugs from the vicinity of these heaters.
These shed heaters also come with multiple safety features like overheat protection and a high-temperature safety cutout in case of air blockage.
Hydronic baseboard heaters contain a non-toxic liquid such as water or oil. When turned on, it heats the liquid to warm the room and is very effective when heating a shed.
Light and easily portable
Convection heating blocks the flow of allergens and dust in the heated shed
Safe to use
Fanless operation means quiet operation
100% energy efficient
Ductless installation
Minimal installation costs
Little maintenance needed
May take up much wall space
May require regular cleaning
They become hot posing certain risks
Fan heaters work through forced convection heating. Their small size and their portable design make them ideal to provide supplemental heating for small spaces. There is no need to confine them in a singular space.
They essentially draw in the surrounding air, heat it using an electric resistant heating coil, before redistributing the heated air with the help of a fan built into the heater. Simply put, the heating coil in fan heaters converts electric energy into heat energy.
To maximize the heating power and energy efficiency of an electric fan heater fully, avoid large and poorly insulated spaces. They work optimally in smaller enclosed spaces, such as sheds, attics, and studies.
Portable fan heaters also come with additional features, such as a thermostat for heat control and a speed control switch for the fan. Interestingly, this fan heater combo can also provide the regular cooling function of a fan when the heating aspect is not needed.
It works best when placed on the floor because of the 0°-45° adjustable angle provision as well as on a table. Its safety features include an automated overheat function, a shutoff tip-over switch, and are ETL and UL certified.
Highly portable providing more convenience
Low initial costs
Occupies minimal space
Quiet operation
Provide both heating and cooling functions
High heating power
They carry the risk of starting fires
Highly power intensive
May circulate allergens and dust within the heated shed
Compared with the other shed heaters, shop heaters are more heavy-duty and tough. They are most suitable for small spaces up to 160 square feet, such as sheds, workshops, and garages. They can also be applied in industrial use.
They are built with a portable, plug-and-play design that makes them ideal for use in any standard outlet. Their bodies are lightweight and integrated with a handle for moving around. When no longer needed after winter passes, they are easy to pack away because of their compact design. Their rugged and powerful casings fortify them to withstand adverse conditions.
Standard electric shop heaters come with 120-volt plugs and are easy to install and begin using. Once plugged in, they work by converting electric energy to heat energy. Through the help of a fan, the heat is then circulated evenly throughout the shed.
To produce fast and powerful heat, these shop space heaters combine the efficiency of the fan and a ceramic heating plate. The fan channels air over this heating plate to get rid of cold air.
With a tilting head, it is easy to direct the heat where it is needed most within the heated shed. The power of these portable shop heaters can be regulated from behind them along with the temperature desired.
They are safe to use with an automatic overheating shutoff mechanism. The exterior of the body doesn't get hot, hence zero chances of experiencing burns.
Safe to use for heating a shed
Easy to use
Flexibility convenience
Energy efficient
Quiet operation
Useless without electricity
Why are they called milkhouse heaters? Because they were initially used to warm dairy barns during winter. They have since revolutionized and are now used to warm up small indoor cold spaces, such as sheds, garages, and workshops.
These shed heaters also work by generating heat from electric current. The electric element inside the heater, which is also an electric resistor, converts the electric current passing through it into heat energy. The heat is then channeled to the ambient air within the heated shed through convection.
Milkhouse heaters come with a built-in durable thermostat that helps with the heater's power adjustment to provide customized heating. For example, they have a fan-only mode that can be adjusted to full power at 1500 Watts based on the heating need.
These portable heaters are also very convenient to carry around, as they are not only light but also fitted with a carry handle. They are small, compact in size, and can be placed anywhere that needs supplemental heating.
Milkhouse utility heaters have been designed with a fast-heating capacity and top-quality heating elements and only take up to three seconds to warm up space, such as heating a shed. They, therefore, produce consistent and comfortable temperatures for small spaces.
Efficient heating elements
Adjustable thermostat with three settings
Automatic overheat protection
Automatic tip-over shutoff mechanism
Easy to use
Save on heating bills
Safe to use for heating a shed
Minimal noise when running
Useless without electricity

Not ideal for extension cord connections
Ceramic space heaters are among the latest space heating innovation. They are considered a great alternative to gas and oil space heaters. They are designed for heating small and enclosed spaces, such as small sheds of up to 200 square feet.
These shed heaters rely on ceramic plates or discs for heating. They are integrated with metallic heating coils and apply the same mechanism of resistive heating. Electric current flows through the metal coils attached to the ceramic plates that are highly resistive and possess a great thermal conductivity. The high resistance produces heat.
The ceramic plates absorb the heat produced and transfer it to the surrounding air. This is made even simpler by the help of a fan that blows the hot air away.
Ceramic space heaters are designed with two heat levels-1500W and 750W and blend well both in the winter and summer. The thermostat control feature makes temperature control easier through an automatic operation. This allows them to attain a comfortable room temperature at any given time.
These small ceramic heaters are also most suitable for bedroom use because of the extremely low noise they produce-less than 45 decibels. They heat the room within just a few seconds of running time.
The flame retardant materials used in the manufacture of these portable heaters completely rule out any risk of fire hazards when used for heating a shed.
Safe to use

Automatic overheat protection

Tip-over shutoff system

Portable design making them convenient to use

Save on heating bills

Minimal running noise

Fast heating

Long life span
Less efficient for large spaces

Useless without electricity
The basic operation of infrared quartz heaters is quite similar to the sun's heating. In other words, they work through a radiant heating process using infrared waves.
They produce infrared light that the naked eyes cannot see. Your body and other objects in the heated shed then absorb the energy produced. Upon contact with the light, the body then begins to warm.
This is how quartz heating works. Electric infrared energy is emitted from the heat source in straight lines. As the infrared wavelengths move away from the heat source, they begin to diffuse after some distance. Because quartz heating only travels through parallel lines, it easily transcends even vacuum spaces. For that reason, it cannot be interrupted even by the wind, allowing the infrared light to directly land on objects and people.
Infrared quartz heaters are ideal for both indoor and outdoor small spaces (215 sq. ft.) owing to the high intensity of heat they emit. As the heating element housed within a quartz tube becomes hot, intense heat accumulates inside the tube. When the tube hits a given temperature, it begins to emit heat. The surrounding objects and people then absorb the heat. The air absorbs minimal heat making them very efficient.
The quartz tube plays a very significant role in preventing the loss of convection heat as well as safeguarding the heating element. So, these electric portable infrared heaters are quite safe when used for heating a shed.
Remotely adjustable

Fitted with a timer scheduler

Quiet operation

Built with dual heating technology

Fast heating

Easy to maintain

100% energy efficient

Safe and natural heating
Loses space warmth instantly when turned off

The coils can get hot and pose burn risks
Portable Electric Fireplaces
Portable electric fireplaces produce somewhere between 5,000 and 10,000 BTU/h of energy. They are therefore ideal for medium-sized spaces of up to 400 square feet.
These small electric fireplace heaters are considered environmentally friendly because they are powered by electricity as opposed to burning coal, wood, or natural gas. They are also preferred for their aesthetic appeal.
Once plugged in, they don't just produce heat. They also simulate real flames while producing amazing fire crackling sounds. 
Just like other electric heaters, mini electric fireplaces work by converting electric current into heat energy through a resistive thermal conductor. When the heater is plugged in and turned on, the heating element begins to warm up automatically, generating instant heat. The heat is then evenly distributed within the space with the help of an internal fan.
To enhance the realistic aesthetics and coziness of your space, these shed heaters have been integrated with 3D flames coupled with a layer of burning embers. They also come embedded with a tip-over switch and overheat protection to enhance safety use.
These portable indoor fireplaces have a top handle to simplify their portability for supplemental heating. It is totally safe to move them around as the body doesn't get hot like other heaters, making them perfect for heating a shed.
Low initial costs

Easy installation

Easy to use

Little maintenance needed

Light and portable

Versatile design

Realistic 3D flame effects

Multiple safety features
Lack real flames

Limited heating space

Useless without electricity
Also known as oil heaters, these shed heaters operate on the principle of convection heating. The oil in this instance is not used as a fuel source but rather as a heat reservoir.
An electric heating element inside the radiator is completely submerged in the thermal oil. The heating element is made up of a resistive metal coil that produces heat from the electric current flowing through it when the electric oil-filled radiator is turned on. The heat generated warms up the thermal oil. As the oil gets hot enough, its warmth is then channeled to the body of the radiator, consequently warming up the air around it.
As energy-efficient indoor heaters, oil-filled heaters are designed to produce optimal temperatures, affording your space an even warmth. They achieve this by providing fast heating that is completely self-regulating. These heaters are also integrated with an energy-saving feature, which helps optimize power settings to suit your desired temperature needs.
Their design is totally user-friendly and incorporated with a foolproof programmable panel, LCD screen, a digital timer, as well as a remote control. They are also integrated with five temperature settings and three heating options to allow flexibility and control.
Producing only a maximum of 5200 BTU/h of heat, these oil filled radiator heaters are ideal for small spaces up to 150 square feet. In addition, they usually roll around on wheels for easy portability.
Energy efficient

Produce lasting warmth

Quiet operation

Overheat protection

Tip-over safety system

Easy to use
Take much time to warm up

Not ideal for larger spaces
These mica heaters have a built-in capacity to warm up medium-sized spaces of up to 300 square feet. They are ranked among the most efficient shed heaters because of their powerful heating elements and their mix of both radiant heating and convective heating mechanisms.
Micathermic heaters have been coated with a few layers of mica sheets. The mica material surrounding the heating element is responsible for conducting and heating a space. Mica emits electromagnetic rays when heated to a given temperature. These rays then transfer the heat to the entire shed space. 
Just like infrared, the radiant rays produced by Micathermic rays are quite soothing and refreshing, mimicking the heat of the sun. These powerful micathermic panel heaters do not rely on fans to blow away warm air. As the objects in the shed heat up, the surrounding air also warms up. As the warm air rises, it pushes back to the heater, cold air.
They are sleekly designed and are wall mountable, allowing you the flexibility to blend their installation with the shed's décor. They essentially provide supplemental heating and can be mounted in the office, living room, or even bedroom.
These panel heaters come with an adjustable thermostat that accommodates both the low heat setting (750W) and the high heat setting (1500W).
Safety thermal cut-off mechanism

Internal tip-over switch

Conveniently portable

Quiet operation

Easy to install and use
Require proximity to feel the warmth
Fake fireplace heaters are ideal for medium-sized sheds of up to 400 square feet. Beyond just heating the shed, these vintage shed heaters enhance the overall aesthetics of your space with realistic dancing flames and a burning log effect. They represent a greener alternative to traditional wood and gas fireplaces.
Unlike a traditional fireplace, fake fireplace heaters do not require any venting or complex installations. They rely on a heating coil to warm up cold air drawn into them before forcing the air back into the shed by the operation of a fan.
In some instances, faux fireplace heaters may apply infrared technology where they first heat objects within a shed before finally heating the air. With these latest designs, you can control the heat emitted as well as the flame effect on the display. That means, they produce a flame without heat, making them a safe option for kids and pets in your home.
Freestanding electric fireplace heaters have also been designed with user-friendliness in mind for more flexible controls. The overheat protection feature enhances safety use and lifespan by shutting the heaters off when they begin to overheat.
Built with elegant designs to match home décor

Save energy through zone heating

Fast convection heating

Quiet operation

Customizable flames

Adjustable thermostat

Overheat protection

Safe to use when heating a shed

Easy to install and use

Saves on space

Zero emissions
Useless without electricity

Lack thrill of real flames
Electric Stationary Plug-In Heaters
Pellet stoves almost resemble traditional wood stoves except they function more like the modern furnace. As opposed to burning firewood, pellet stoves burn compressed hardwood pellets, made from compressed sawdust or waste wood. 
Once the pellets are poured into a storage hopper of the pellet stove, they are channeled to the burn chamber through an electric auger. These stoves are built-in with fuel sensors that alert the auger when the next fuel supply is needed. That means the auger controls the amount of pellet delivered into the burn chamber at any given time. It is designed to pour just the right amount to produce the hottest flame.
Through a combustion blower, outside air is drawn into the stove via a fresh air vent, and smoke and fumes are driven out via an exhaust vent. There is still another blower—the convection blower that channels space air into the stove and drives out heated air into the heated space via heat-exchange tubes.
Pellet stove heaters come in freestanding modes and inserts that can be fitted into existing fireplaces. To fit them, pipes need to be installed through the wall. See installation video above.
Both large and small pellet stoves burn cleanly and produce minimal ash. They come in various sizes and are capable of heating a shed of large sizes up to 2,000 square feet.
How long does a 40-lb bag of pellets last? About 24 hours of solid burning and costs $5 per bag. (source: HomeAdvisor)
Produce clean burns

Ample heating

Require little maintenance

Easy to install and use

Programmable controller
• Require electricity to run
Radiant Panel Heaters (Infrared)
These wall-mounted shed heaters operate through the conversion of electricity into radiant heat. Radiant heat refers to heat transmitted through radiation. That means, instead of heating the air directly like convection or conduction heating, radiant heat warms up objects in space through invisible electromagnetic infrared waves.
The warmth produced is similar to that of direct sunlight.
Radiant panel heaters, therefore, apply this same principle to heat small spaces. They drive electric current through a panel comprising layers of appropriate material like copper or nickel. This operation produces long-wave infrared energy that further generates infrared radiation. The radiation produced warms up objects and people in the heated space just the way the sun does.
Infrared heating panels produce more warmth with minimal energy consumption. They are also Wi-Fi-enabled. That is almost like having a thermostat on your phone to control the temperature of the heated shed. They are ideal for offices, kitchens, and bedrooms because they take up minimal wall space and reduce the inconvenience of floor mounting.
For aesthetics, when installed over the outlet, you can hide the cord behind the heater. They are designed with a space for the cord to be stowed in, even while plugged in.
The heater itself does not get hot and always keeps your wall cool in case of vulnerable children or pets occupying the heated shed. Therefore, is considered a very safe way of heating a shed.
No pipe installation required

Energy efficient

Provide healthy and comfortable heating

Minimal circulation of dust and allergens

Wi-Fi regulated heating

More flexibility control

Provide portability convenience

Great for zoned heating

Heat the air instantly
Useless without electricity
Window heat pumps may double up as heaters as well as air conditioners. Because of their compact design, they are installed in windows to provide supplemental heating to spaces of 350 to 700 square feet. Their operation is mostly limited to a single room.
During the summer, window heat pumps extract warm air from your shed, passing it through a coil comprising a refrigerant. This refrigerant absorbs the heat in the air and expels it outward before recirculating cold air back in.
During winter, these heaters draw in air from outside the shed and force it through the coil and refrigerant where it absorbs heat. The heated air is then blown into your shed.
Window unit heat pumps provide about 8,000 BTU cooling capacity and 3,500 BTU heating capacity. They are also integrated with three fan speed controls and four directional vents for regulating the flow of air within the heated shed.
Additional features for these dual shed appliances include remote control, a full-day timer, as well as a sleep function to save energy when idle. Maintaining them is pretty easy because of the integration of a 'check filter' light that notifies you when the filter is due for a cleaning. You can also regulate and save energy through the heater's digital thermostat, giving you flexibility and control.
For a small one-room shed, heat pump window units work well for heating a shed.
Quiet operation

Highly efficient operation

Dual heating and cooling function

Low installation costs

Heats the entire room

Easy to install and use

Digital control panel
Cannot service multiple rooms

Mostly for supplemental heating
Even though there are many types of convection heaters, not all are wall-mounted. The common types include oil, ceramic, water, fan convection heaters, and furnaces. They all work on the same principle but produce and transfer heat in different ways.
Their operation is totally different from conduction and radiation heating. Convection heating essentially means transferring generated heat through the mass movement of air. That means, instead of directly heating an object, the air around the object is heated by drawing energy from the power source.
Therefore, convection heaters rely on the movement of air. According to convection heating, air lightens and rises when warm and falls when it cools. Air is passed over a heating element, absorbs heat, rises, and begins to circulate within a space. As the warm air rises, the cold air is forced down over the heating element through a fan.
Convection heaters are suitable for small spaces of up to 120 square feet. Therefore, they are ideal for providing entire-space heating. They may take some time to generate enough heat but when they do, the warmth is lasting, making them very effective when heating a shed.
Heat an entire space over time

Covered heating elements minimize burn risks

Energy efficient

Produce constant temperature throughout

Easy to mount on any wall

Blend well with room décor

Overheat protection

Quiet operation
Not ideal for large spaces

May result in accumulation of allergens and dust
Electric Hardwired Heaters
Ductless mini-split heat pumps are designed with dynamic climate control capabilities ideal for heating and cooling your home all year round. Some mini splits are designed to heat below freezing temperatures down to 0°F.
Their greatest advantage as shed heaters is that they do not require any ductwork. Even so, they may still require professional installation unless you know what you are doing. Check out the video for the complete installation process. 
They are ideal for heating and cooling small spaces due to the lack of ductwork. In larger spaces, they can be used for zoned heating and cooling. Depending on their BTU, the space size may vary from 450 square feet to 1500 square feet. (See Mini Split Sizing Calculator.)
Mini-split heat pumps work through the systemic coordination of an indoor unit and an outdoor unit. A refrigerant line links the two units. The outdoor unit containing a compressor or condenser heats or cools the air outside before channeling it inside your space or shed through the indoor air-handling unit. The advantage of these heat pumps is that a single outdoor unit can service multiple indoor units.
Additionally, they have been integrated with a heat pump, air conditioning, dehumidifier, as well as a fan for optimal climate control efficiency making them a good choice for heating a shed.
No ductwork needed

Designed with compact sizes

Suitable for zoned heating

Energy efficient

Mounting flexibility

Built-in washable air filters

Quiet operation

Even distribution of hot and cold air
High initial costs

May require professional installation
Ever imagined heating your shed from the floor up? With radiant floor heating also known as underfloor heating systems, you have yourself one of the hottest ways to warm up your space.
These shed heaters transmit the radiant heat produced through the floor as opposed to the air. There are various types of radiant heating systems that use water, including, electric, air-heated, and hydronic.
We shall focus our attention on electric radiant floor heating systems, as they are the most common. They use electric cables laid under tiles. Tiles are good heat conductors, can hold temperatures for long periods, and distribute heat evenly. However, concrete, stone, or hardwood options are great, too.
Through electromagnetic waves, radiation emits heat to the air. These waves carry thermal energy. When they hit your floor, they transfer that energy to the floor material in form of heat. The diffused heat then travels from the floor up, heating your entire shed evenly. The heat energy can be regulated with a thermostat attached to the wall within your shed.
Radiant floor heating systems are ideal for heating small spaces of up to 100 square feet. For safety, the heating system should be fully embedded in the floor.
Due to minimal airflow, radiant floor heating provides comfortable and uniform warming, even at low shed temperatures. For the DIY enthusiast, installing electric underfloor heating is a fun project for heating a shed.
Programmable thermostat

Customized installations

Even distribution of heat

Instant comfort

Safe to use

Quiet operation
High initial costs

Not suitable for all flooring
Wall Mounted Electric Heaters
Wall-mounted electric heaters are suitable for heating small spaces, such as bathrooms, sheds, and dressing rooms (between 100 and 150 square feet) for a short duration. They work best in single rooms and much more efficiently in interior walls rather than exterior walls.
These shed heaters are similar to portable space heaters except that they are permanently hardwired into your wall circuit. To check out the entire installation process, watch the installation video.
Wall-mounted electric heaters are configured to provide supplemental heating from the vantage point of your wall. Either they may be recessed or surface mounted based on the intended purpose. 
These wall-mounted heaters operate on the principle of convection heating—rising warm air and sinking cool air. They draw in ambient air through a fan, warm it up, before releasing it back into your space or shed. Through a repetitive convection cycle, your shed stays heated throughout. The temperature levels can be controlled through an adjustable thermostat attached to the heater's exterior.
Wall mounted electric heater combos with a thermostat work well when using your shed as a permanent workshop that gets regular use.
Energy efficient

Suitable for zoned heating

Easy to install and use

Completely ductless

Low initial costs

Adjustable thermostat

Automatic shutoff mechanism

Minimal maintenance needed

Take up a minimal wall and floor space
The fans may be noisy

May overload the circuit

May pose a risk of fire hazards

Require electricity to function
Infrared heat bulbs have a wide range of applications including heating small spaces like bathrooms, workbenches, prevention of water pipe freezing, car radiator freezing, and pump freezing. They are incandescent bulbs that produce infrared radiation. This infrared radiation then generates heat to warm up surrounding objects.
Heat bulbs are used primarily for heating as opposed to lighting. The bulb filaments act as electrical resistors. When electric current flows through them, they glow and produce both light and heat. The heat radiation produced is then concentrated on a specific area or object to supplement heating.
They are mostly applied in directional heating and lighting especially in recessed ceiling fixtures, pole lights, and track lights. They can cast wide beams of light and heat just where it is needed most. The bulbs may be frosted to diffuse light better, clear for warmer light, or red for nocturnal use.
Infrared heat lamp bulbs also come in various types, such as shortwave bulbs, mediumwave bulbs, and longwave bulbs. Mediumwave bulbs are the most commonly used in heat lamps. They are not designed to be used as the main source of light or heat. Their role is purely supplemental. Positioning the heat bulb correctly is what determines its heating efficiency. They are mostly mounted on ceilings.
Ideal for targeted heating

Heat up quickly

Energy efficient

Provide instant warmth

Cope well with moisture

Multiple bulb varieties
Not reliable for lighting

Only good for supplemental heating
Electric ceiling heaters are integrated with a fan-forced design and a hard-wired installation. With this innovative design, the ceiling-mounted heaters can evenly disperse heat throughout your shed. These heaters save up a lot of floor space when mounted up and are safe for pets and children running around the space.
Electric fan-forced ceiling heaters are suitable for heating small or large spaces, such as sheds, garages, or workshops. These work well for sheds with high ceilings.
With the help of a fan, they drive hot air from around the heating element and disperse it all over the heated shed including directing it downwards. When electric current passes through a resistive heating coil, electric energy is converted into heat energy. The fan draws cold air over the resistive heating coil, warming it up in the process. However, heating a shed with these heaters may take some time. 
Check out the installation video I have uploaded for these shed heaters. But keep in mind that professional installation may be needed. Other types of electric ceiling heaters may include ceramic heaters and radiant heaters.
Fan-forced design for even heat distribution

Ideal for targeted heating

Remote-controlled settings

Overheat protection sensor

Easy to use

Quiet operation
May disperse dust and allergens

Limited to smaller spaces
BTU stands for British Thermal Unit, and is an energy unit. It measures the energy needed to heat one pound of water by 1 degree Fahrenheit. 1 BTU = 0.293 watt-hours or the energy released by burning one match.
The BTUs you need varies greatly depending on the climate you live in, how well the building is insulated, the size and the age of the building.
A good rule of thumb is 20-30 BTU per Sqft for warmer climates and 50-60 BTU for colder climates. So for a moderately insulated 400 SqFt shed in a normal clime, you would need 12,000 – 15,000 BTUs to comfortably heat your shed.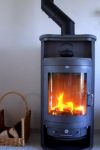 Image by Debbie Schiel – Freeimages
To sum it up, one must carefully consider the best options for heating a shed. Whichever shed heater you choose to heat your shed and keep you warm this winter, we hope this guide has been helpful in learning how to heat a shed and to make a wise choice.
Enjoy your shed even in frigid winter months. Don't freeze, stay warm!