Need help building a gravel shed foundation? These free plans include easy-to-follow instructions with colorful diagrams to help guide you. 
With these free easy-to-build plans, you can construct a sturdy gravel foundation for your shed.  Even beginner DIY enthusiasts can feel confident in their handyman and construction skills. This is a 10 x 12 foot shed base but can easily be adapted to any size foundation needed.
These Plans Include Detailed Diagrams For:
X-ray perspective
Site preparation
Perimeter install
Perimeter screws
Before you start any building project, make you have all the necessary tools, materials and equipment you will be needing in advance. This will make your building endeavors go smoother and easier.
It is best to use a professional grade of landscaping fabric. Choose one that is made of spun non-woven polyester fibers. These are the most durable and heavy duty for a gravel foundation. They are very strong are difficult to tear. 
How much gravel do I need Calculator
The cost of gravel depends on what part of the country you live in.
Average estimate for a gravel shed foundation with dimensions of 10×10 sq ft, you will need 3.5 tons for crushed gravel. Go to the calculator for your exact measurements.
Bulk crushed gravel and pea gravel can cost between $10 to $50 per ton.
Delivery of gravel ranges from $175 to $2000 depending on distance delivered and quantity. Check with your local supplier.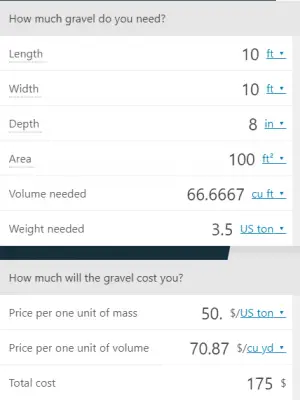 To sum up, we hope this has helped you. Whether you are a beginner DIY builder or a veteran, you are sure to find these plans helpful in learning how to build a gravel foundation for shed. There is nothing more rewarding than building a permanent outdoor storage shed structure with your own two hands. Outdoor storage buildings also add value to your home and land.
Although these plans dimensions are 10 x 12 foot shed base, they can easily be adapted to any size foundation required.
Don't forget to check with your HOA on zoning rules in your neighborhood to select a good location for your new shed. And before you begin, make sure you have all the proper tools and materials you will be needing in advance. You and your family will enjoy the extra space to store tools, sports equipment, gardening and pool supplies, even lawn mowers, motorcycles, bicycles and ATVs for generations to come.
Please enjoy this free gravel shed foundation plan and happy building!